Democrats currently control the Senate by the narrowest of margins, and as the midterm election draws closer, the party is trying to shore up its control of the upper chamber of Congress by picking up new seats, although polls show that will likely be an uphill battle.
The current Senate has 50 Republicans, 48 Democrats and two independents that caucus with the Democrats. As Vice President Kamala Harris is able to cast tiebreaking votes in the evenly split legislative chamber, Democrats hold the slimmest possible edge.
When voters go to the polls across the country in a little less than five months, 35 Senate seats will be up for grabs. Of these, 14 are held by Democrats and 21 by Republicans. With no margin of comfort, Democrats cannot lose even one seat and maintain their power in the Senate. At the same time, most of these seats are considered safe, as they are held by incumbents in states that generally lean strongly in favor of their respective political parties.
Four seats currently held by the GOP are believed by analysts to be at least somewhat competitive. But Democrats are generally seen as more likely to lose seats than gain in November—given national polling data, President Joe Biden's low approval rating and recent historical precedent.
Despite the difficulties, Democrats are expected to fight hard to flip four Senate seats in Ohio, North Carolina, Pennsylvania and Wisconsin.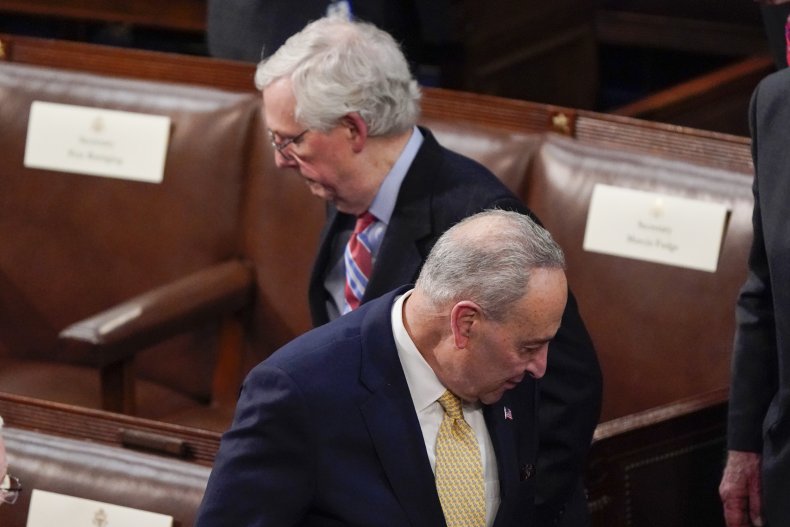 Ohio
Republican Rob Portman decided not to seek reelection, leaving a wide-open race. Although Republicans have done well in Ohio's recent elections, its other senator is Democrat Sherrod Brown. Barack Obama also won there in 2008 and 2012.
Republican J.D. Vance, an Ivy League-educated venture capitalist best known for his memoir Hillbilly Elegy, will face off against Democratic Representative Tim Ryan. Polls currently show a close race.
Polling carried out by Suffolk University/USA Today from May 22 to 24 had Ryan down by a little more than 2 points. The Republican had support from 41.6 percent of likely voters compared to 39.5 percent who backed the Democrat. Meanwhile, 16.8 percent of likely Ohioan voters said they were undecided. The poll surveyed 500 likely voters with a margin of error of plus or minus 4.4 percentage points.
A larger late April poll conducted by GrowProgress, sponsored by Innovation Ohio, found Ryan narrowly leading. Ryan had the support of 43 percent of registered voters compared to 41 percent for Vance. An additional 15 percent of respondents said they didn't know who they would vote for or if they would support someone else. The poll surveyed 2,000 registered Ohio voters. It had a margin of error of plus or minus 2.5 percent.
North Carolina
Like Portman in Ohio, GOP Senator Richard Burr is not seeking reelection in North Carolina. Democrat Cheri Beasley, the former chief justice of North Carolina's Supreme Court, hopes to defeat Republican Representative Ted Budd to flip Burr's seat.
Recent polling shows a relatively close race, although Budd appears favored to win. Surveys of likely North Carolina voters conducted in May by Cygnal and Meeting Street showed Beasley down by just 2 percent and 1 percent, respectively.
In the Cygnal poll, Beasley was at 42 percent and Budd 44, with 14 percent undecided or planning to support someone else. The Meeting Street survey had the Democrat at 43 percent and the GOP contender at 44, with 13 percent undecided or planning to support a different candidate. Both polls had margins of error of plus or minus 4 points.
An Emerson College poll from May showed Beasley down by 7 points. She was supported by 41 percent of likely voters compared to 48 percent for Budd. The survey included 1,000 respondents and had a margin of error of plus or minus 3 points.
Pennsylvania
Again in Pennsylvania, the incumbent GOP senator, Pat Toomey, decided not to seek another term. Democratic Lieutenant Governor John Fetterman will face off against Republican Mehmet Oz, a physician and popular television personality.
Polling has been sparse for the race thus far. One survey in December—before the primaries—showed Fetterman narrowly ahead of Oz. The poll of likely voters, conducted by Data for Progress, had Fetterman at 44 percent and Oz at 42. An additional 14 percent were undecided or planned to back someone else. The survey had a margin of error of plus or minus 4 points and included 581 respondents.
Notably, Biden won in Pennsylvania by about 1.2 percent in 2020. Although Trump narrowly carried the state in 2016, Democrats previously won there in every presidential election going back to 1992. Pennsylvania's other current senator, Bob Casey Jr., is a Democrat.
Wisconsin
Republican Senator Ron Johnson announced in January that he would seek a third time, despite previously pledging to serve only two. Wisconsin went for Biden in 2020, and the state's governor and other senator are Democrats. As a result, the party believes it has a good shot at flipping the seat in November.
Wisconsin's primary won't be held until August, so it's still unclear which Democrat will face Johnson. Polling carried out by Marquette Law School in April and February showed that Wisconsin Lieutenant Governor Mandela Brown was leading among Democratic hopefuls.
A survey carried out by Morning Consult in December showed Johnson's approval rating with Wisconsin voters was underwater by double digits. Only 36 percent of voters said they approved of Johnson, while a slim majority (51 percent) said they disapproved. The survey had a margin of error of plus or minus 3 percent and included 2,517 registered Wisconsin voters.
The April poll by Marquette Law School found similar results. Again, only 36 percent of Wisconsin's registered voters had a favorable view of Johnson, while 46 percent said they held an unfavorable view. Wisconsin's other senator, Democrat Tammy Baldwin, was favored by 43 percent of voters compared to 36 percent who viewed her unfavorably.