Marketing is a fast-paced field that can (and often does) change with every Google algorithm update, new Instagram feature, or trendy app. 
With things evolving so quickly, marketers can't rest on their past experiences or knowledge from years past. They need to be constantly leveling up.  
Luckily, whether you are new to the field or a seasoned pro, there is a plethora of resources available to help you stay apprised of changes in the industry, learn and hone new skills, and in turn, advance in your career.
In this article, I'll share:
11 of the best digital marketing training platforms and resources to focus on
What sets them apart from the rest
Free Guide: The Ultimate Inbound Marketing Strategy Playbook 2022
1. HubSpot
HubSpot is the source for all things inbound marketing, offering high-quality blog articles, an active YouTube channel, webinars, and a variety of premium content.
With video lectures on topics like marketing, sales, service, web design and development, and data privacy, HubSpot Academy is another resource from the company.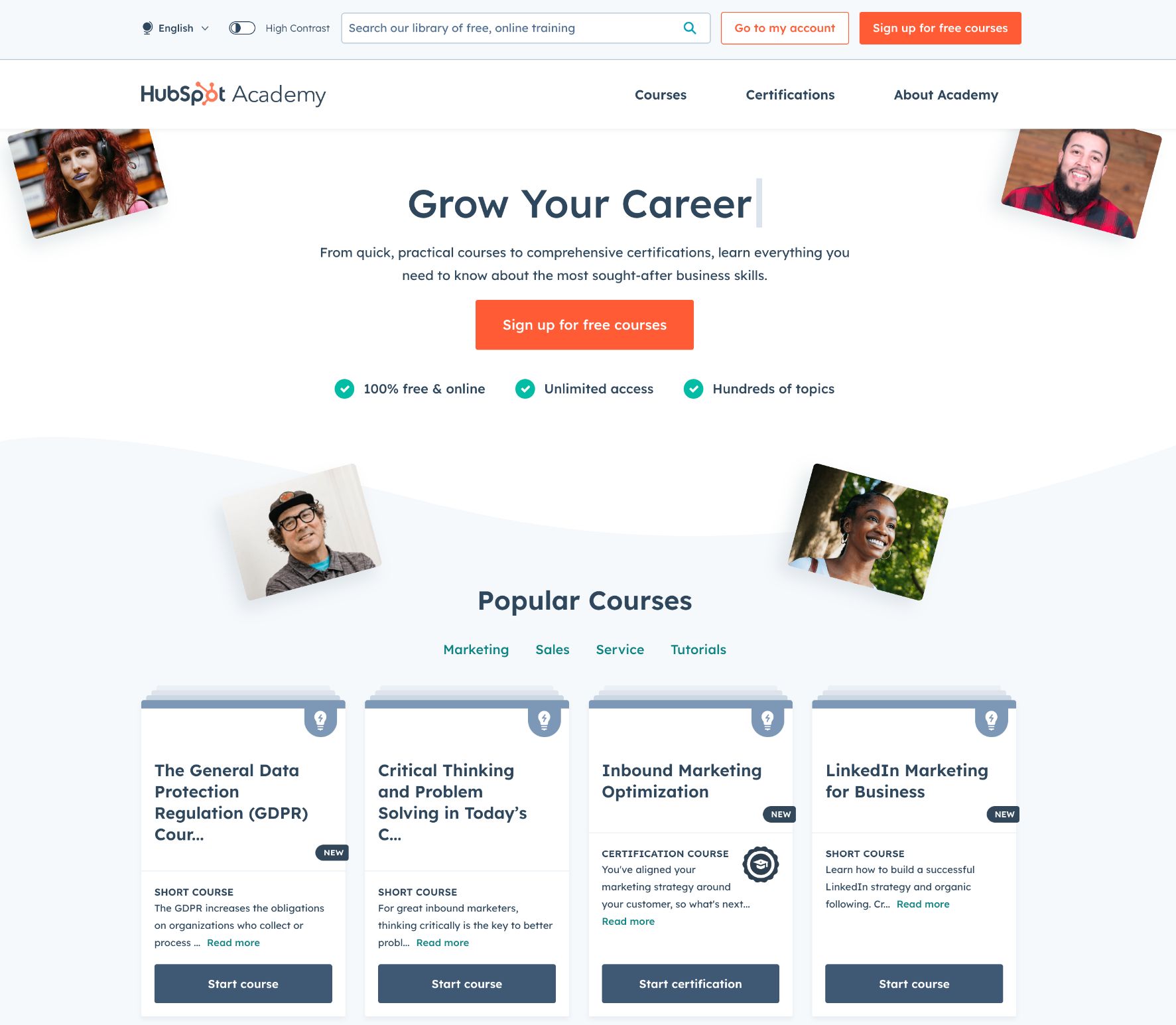 The learning platform is 100% free and grants users unlimited access to its vast library. It also offers 25 certification courses.
While some courses are just for education, others include a quiz and practicum, earning users a certification they can display on their LinkedIn profiles or website to show their knowledge of a topic.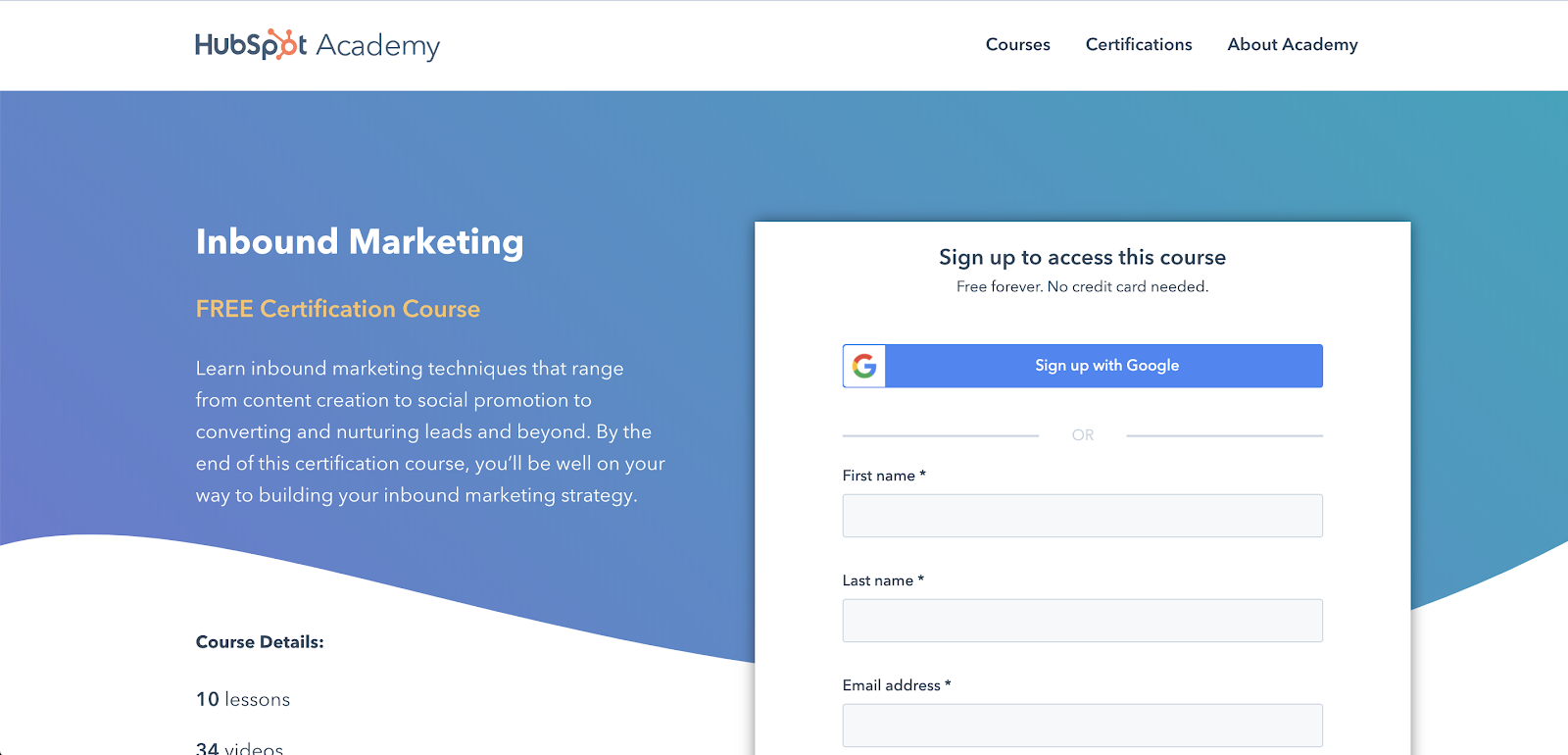 Who's HubSpot for? Overall, HubSpot Academy offers great resources on inbound marketing, optimizing a web presence, and of course, the HubSpot tools. It's especially a smart place to start if you need the basics.
The content is thorough and full of examples but definitely skewed more to those just beginning their careers or new to the topics. 
Note: It's worth mentioning that courses tend to be catered to HubSpot software, tools, and methodologies. While you will undoubtedly learn a lot, there will be a learning curve when it comes to trying to adapt your knowledge to other platforms.  
2. ConversionXL
If you're a bit farther along in your marketing career, ConversionXL can help you take your foundational knowledge to the next level using metrics and data. 
The company (and its founder Peep Laja) offer some of the premier thought leadership in data-driven marketing.
Its blog is chock-full of case studies and experiments teaching markets how to make their content more convincing and generate more leads.
Meanwhile, CXL Institute, their paid, subscription-based online learning platform offers over 90 digital marketing courses and 11 "mini degree" programs.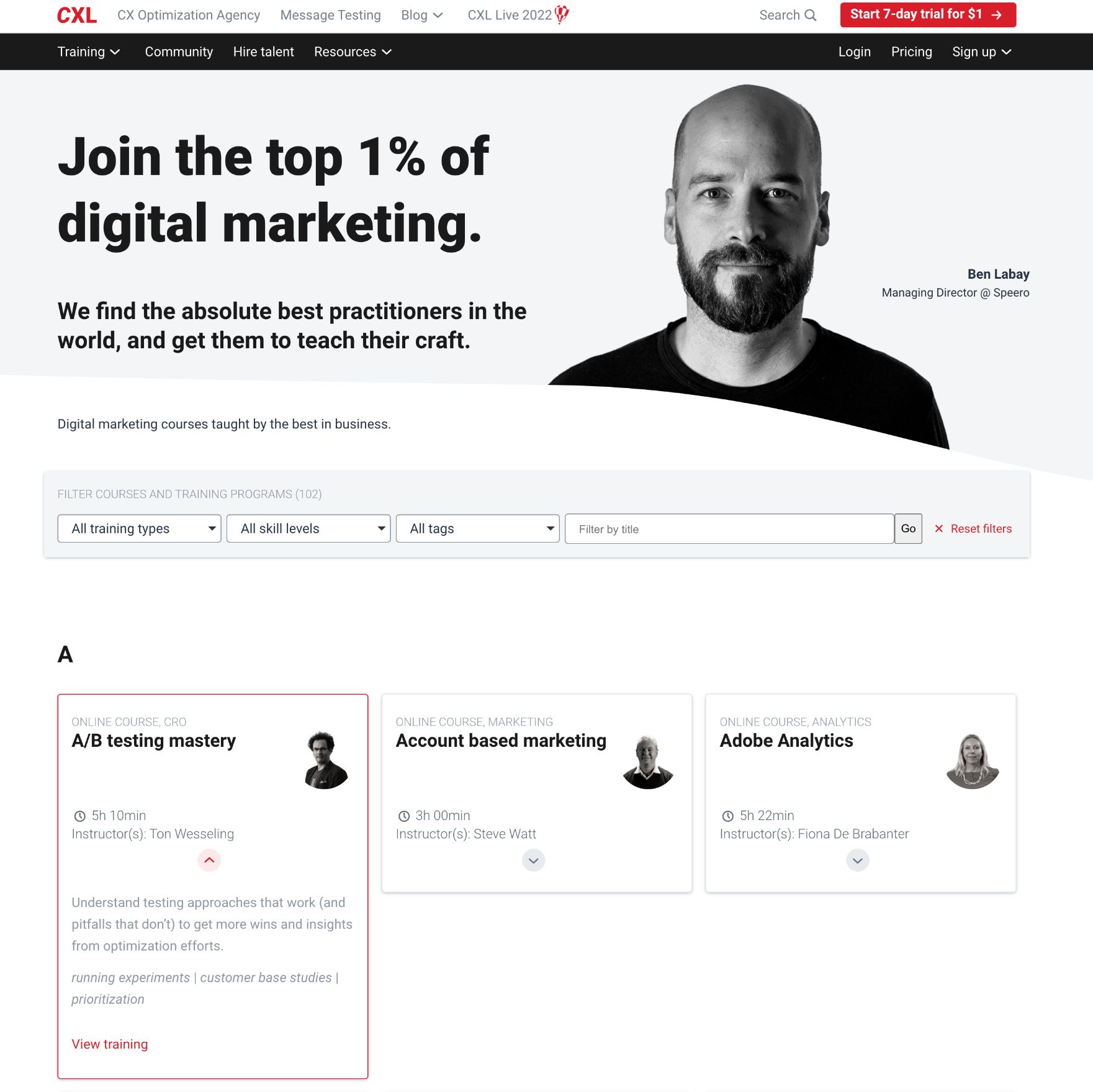 Similar to HubSpot Academy, topics in CXL Institute include A/B testing, analytics, content marketing, email marketing, Facebook marketing, Google ads, landing page optimization, and search engine optimization, but these cater to more advanced users.
Their courses are usually more analytical and tactical than HubSpot, welcoming well-known and respected practitioners such as Orbit Media's Andy Crestodina, copywriter and marketer Val Geisler, Peep Laja himself, and IMPACT's own Bob Ruffolo to teach users.  
Who's ConversionXL for? CXL is for marketers who know the basics and are now looking for tips and tricks to get better results.
3. Unbounce
Speaking of conversions, landing pages are an integral part of any conversion path. If you want to improve your conversion knowledge and skills, that's where Unbounce comes in.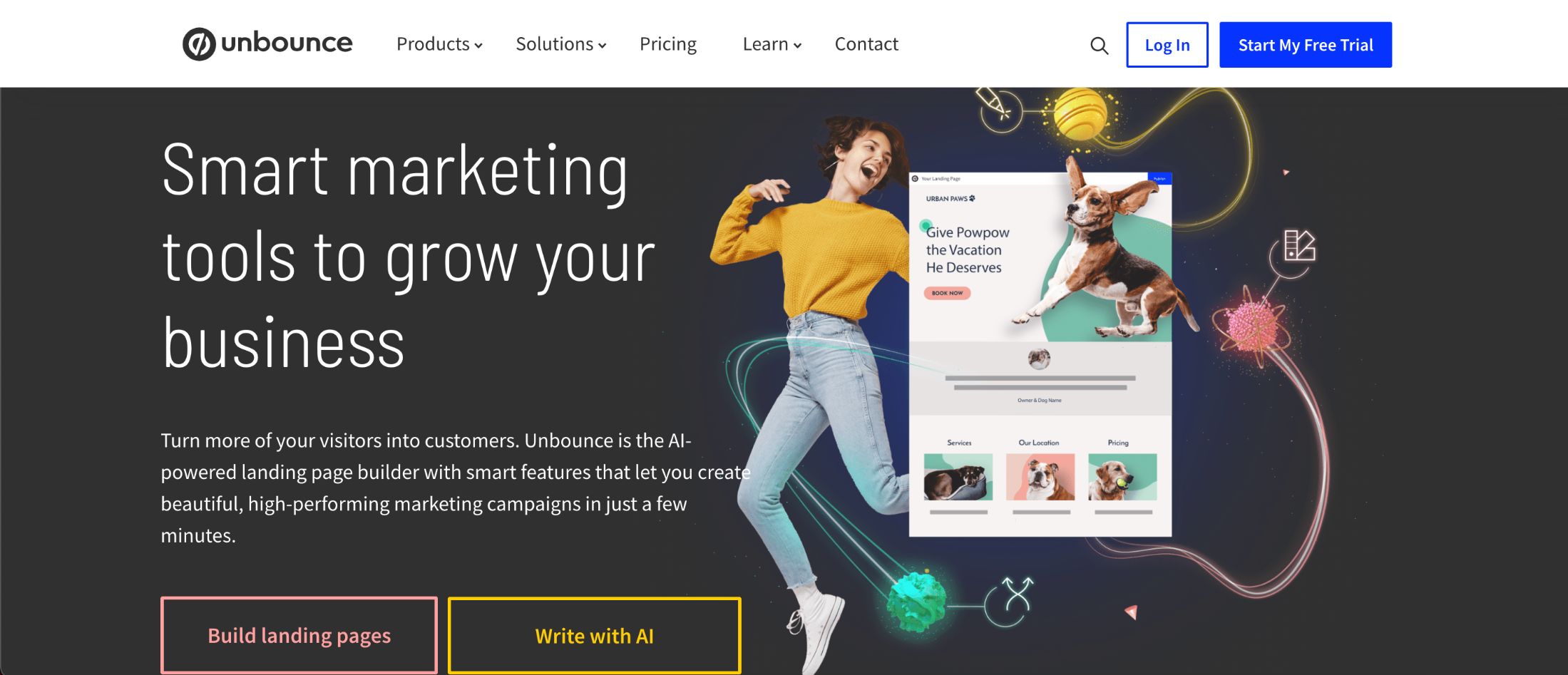 Unbounce is an AI-powered landing page tool company that regularly shares blog articles, original reports, research, case studies, ebooks, and a host of other resources.
Each piece is full of industry standards and tips you can use to create beautiful landing pages that will convince and convert your audience and generate more leads. 
Even though you might have HubSpot, MailChimp, or another tool for creating your landing pages, Unbounce offers knowledge and best practices that can be applied universally. 
Who's Unbounce for? Turn to Unbounce if you want to learn more about how to generate better results specifically from your forms and landing pages.
4. Content Marketing Institute
Content Marketing Institute (CMI) is all about helping you create the best content for your digital marketing efforts.
They offer insightful blog articles, original research and reports, as well as CMI University or Content Marketing University.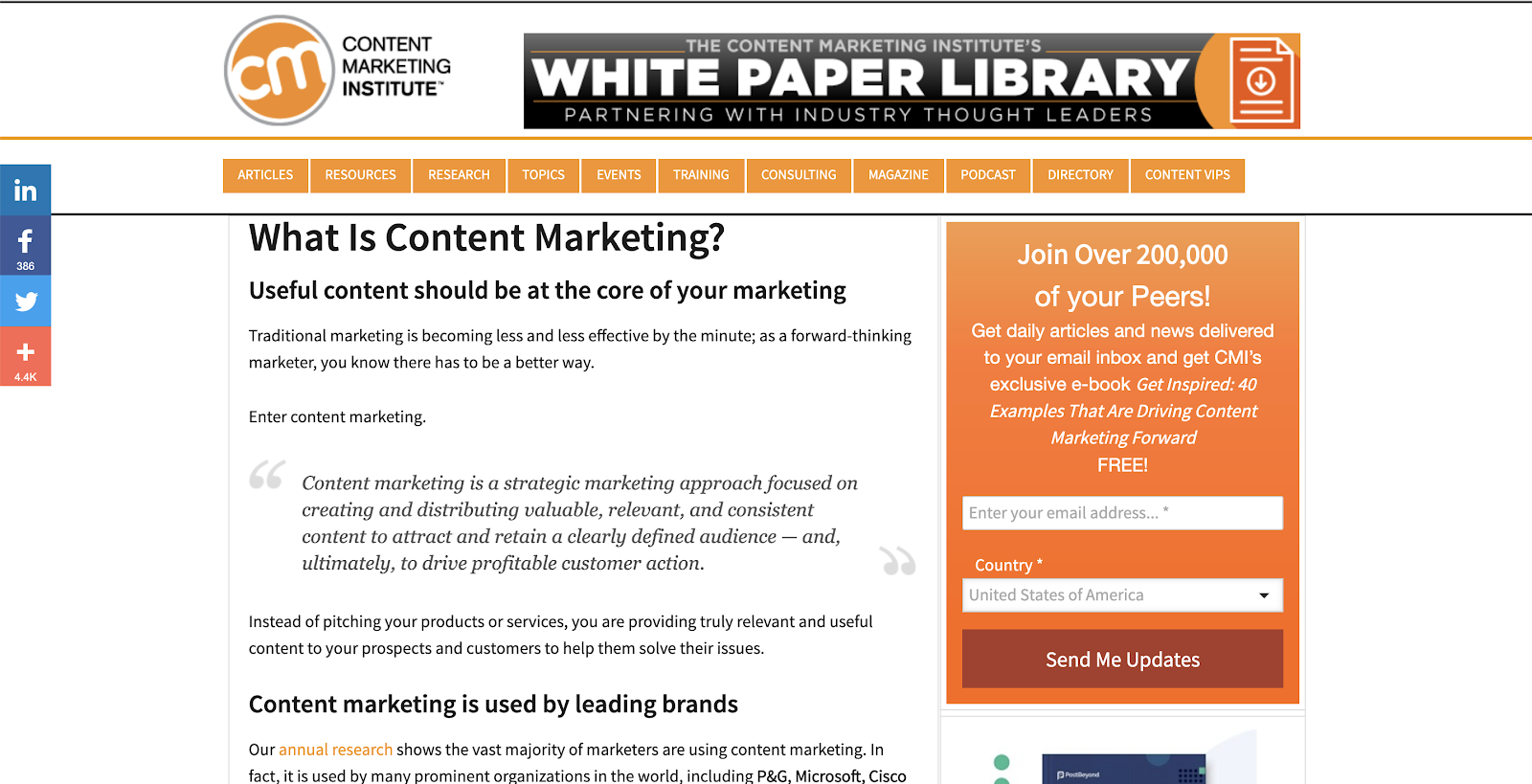 Content Marketing University's offering is more limited than others on our list, but it is hyper-focused on content. It's a 10-course curriculum, updated annually and developed by CMI's chief strategy officer, Robert Rose and awards students with a certificate upon completion. 
Who's CMI for? Content Marketing Insitute is a worthy bookmark for content marketers at all levels. Content Marketing University, however, is great for those who want to learn how to create a successful content strategy and how to drive better results using it.
5. Neil Patel
Next up, we have Neil Patel. It's hard to search a digital marketing term and not come across a piece by Neil on the first page.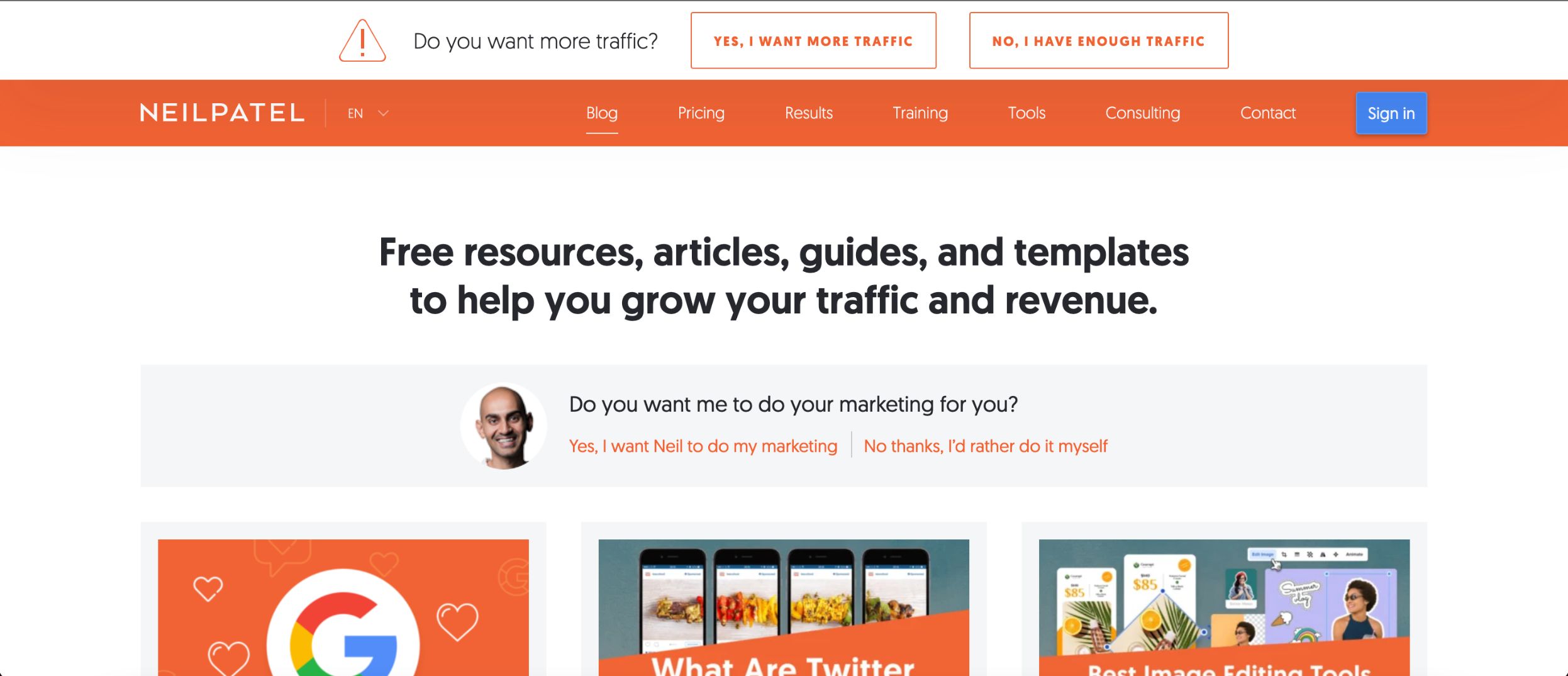 As a marketing thought leader, popular speaker, and New York Times best-selling author, Neil is known for sharing insights on just about everything related to digital marketing. 
You can learn about SEO, content creation, conversion rate optimization, paid ads, social media, and more via Neil's blog, his podcast with Eric Siu titled Marketing School, his tools, his courses, or even his personal consulting. 
Who's Neil Patel for? Neil Patel is a great resource for those who want to know everything about digital marketing but learn best with a guide. Neil puts his signature (and face) on everything he produces so if you like a personal touch with your learning, he's the man for you!
6. DigitalMarketer
DigitalMarketer is well worth its price tag. 
In addition to a blog full of actionable case studies, DigitalMarketer offers 11 certifications and master courses that cover paid media, content marketing, social media, and email marketing, among other things. 
It also shares checklists, execution plans, and easy step-by-step processes that explain how to master even the most challenging marketing tactics.
What's more, when you sign up for DigitalMarketer, you get access to a community of fellow learners and professionals who can support you in your quest for knowledge and growth.
Who's DigitalMarketer for? Overall, DigitalMarketer is a powerful resource for any marketer, beginner to expert, looking to hone their skills and connect with others in similar roles. 
7. IMPACT
IMPACT is unique in that our content and resources primarily focus on helping users bring their marketing in-house. 
Our library of free educational resources includes thousands of articles, YouTube videos, playbooks, tools, and THE LATEST, a weekly newsletter coming directly from Marcus Sheridan, author of They Ask, You Answer.
Each resource takes practices like content marketing and video marketing and teaches you how to achieve real bottom-line results using principles and concepts from Marcus' framework, such as The Big 5, The Selling 7, assignment selling, and revenue teams. 
Along with these hundreds of free resources, we also have an online learning platform called IMPACT+.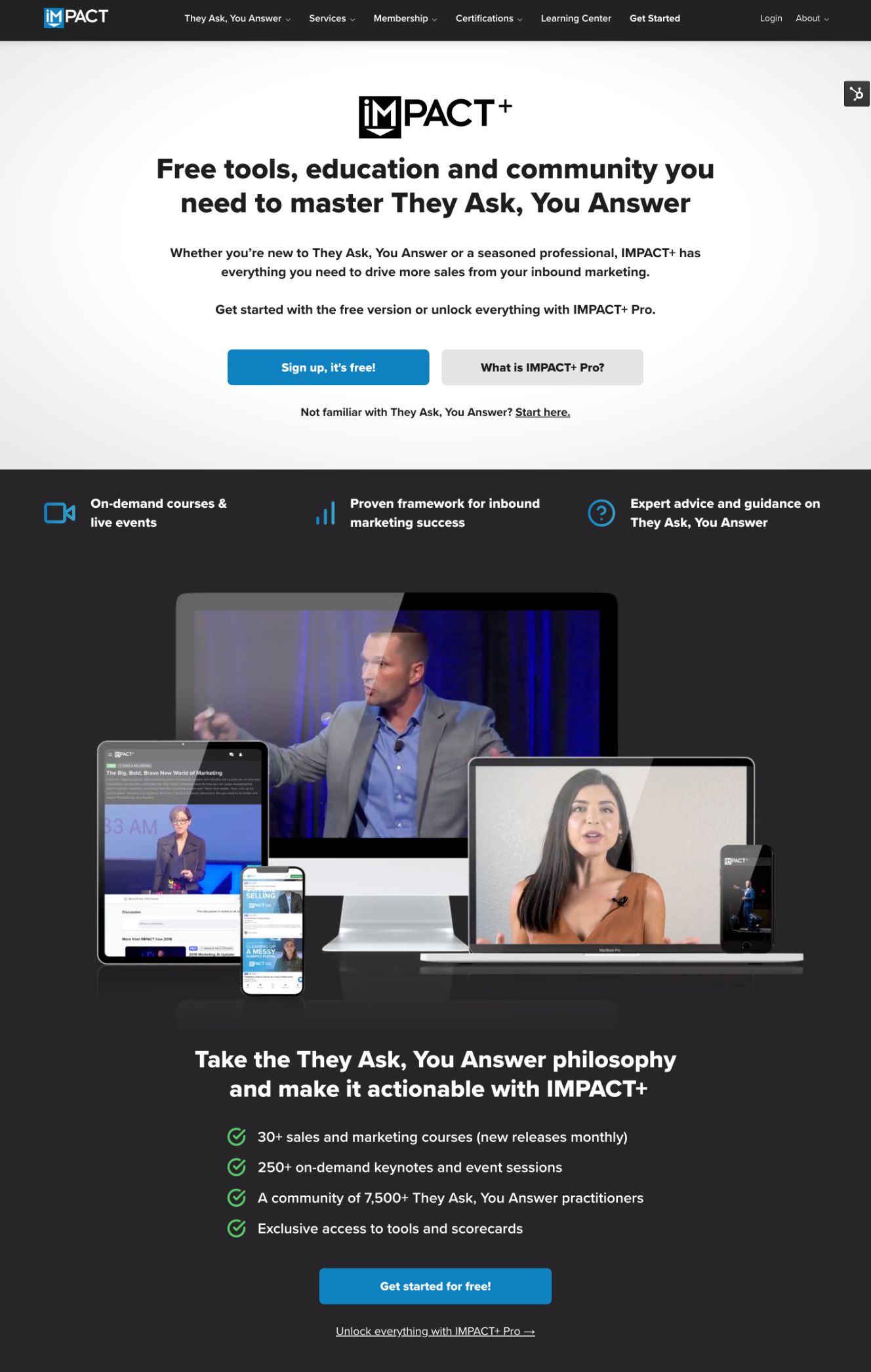 The platform offers dozens of on-demand courses as well as virtual peer groups, event recordings, member mastermind groups, tools, and scorecards. 
Who's IMPACT for? IMPACT and IMPACT+ are perfect for anyone who wants to master inbound marketing using Marcus Sheridan's They Ask, You Answer framework.
8. Search Engine Journal
If you're looking to dive deep into search engine optimization (SEO), Search Engine Journal is a great place to start. 
As the name suggests, this online publication focuses on all aspects of SEO, search engine marketing, and news including social media, paid media, and algorithm updates.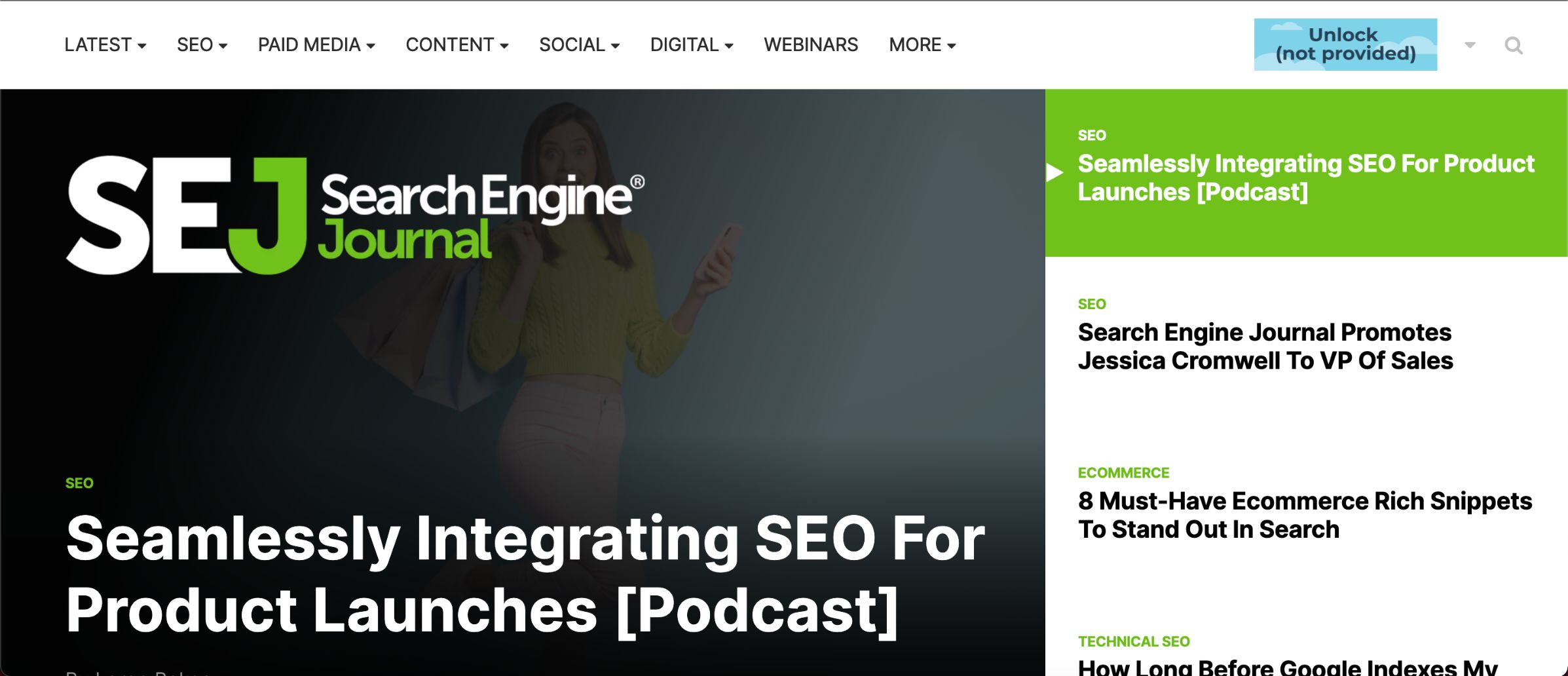 It regularly publishes comprehensive and actionable articles, webinars, podcasts, and even job openings to keep marketers fully in the loop. 
Who's SEJ for? This one's for marketers who want to stay up to date on the latest search engine changes and how to adapt. 
9. Backlinko
Speaking of SEO, Backlinko can help you go beyond basics.
Founded by Brian Dean, Backlinko is considered the place for next-level SEO training and link-building strategies, sharing insights via its blog, newsletters, and training (coming soon).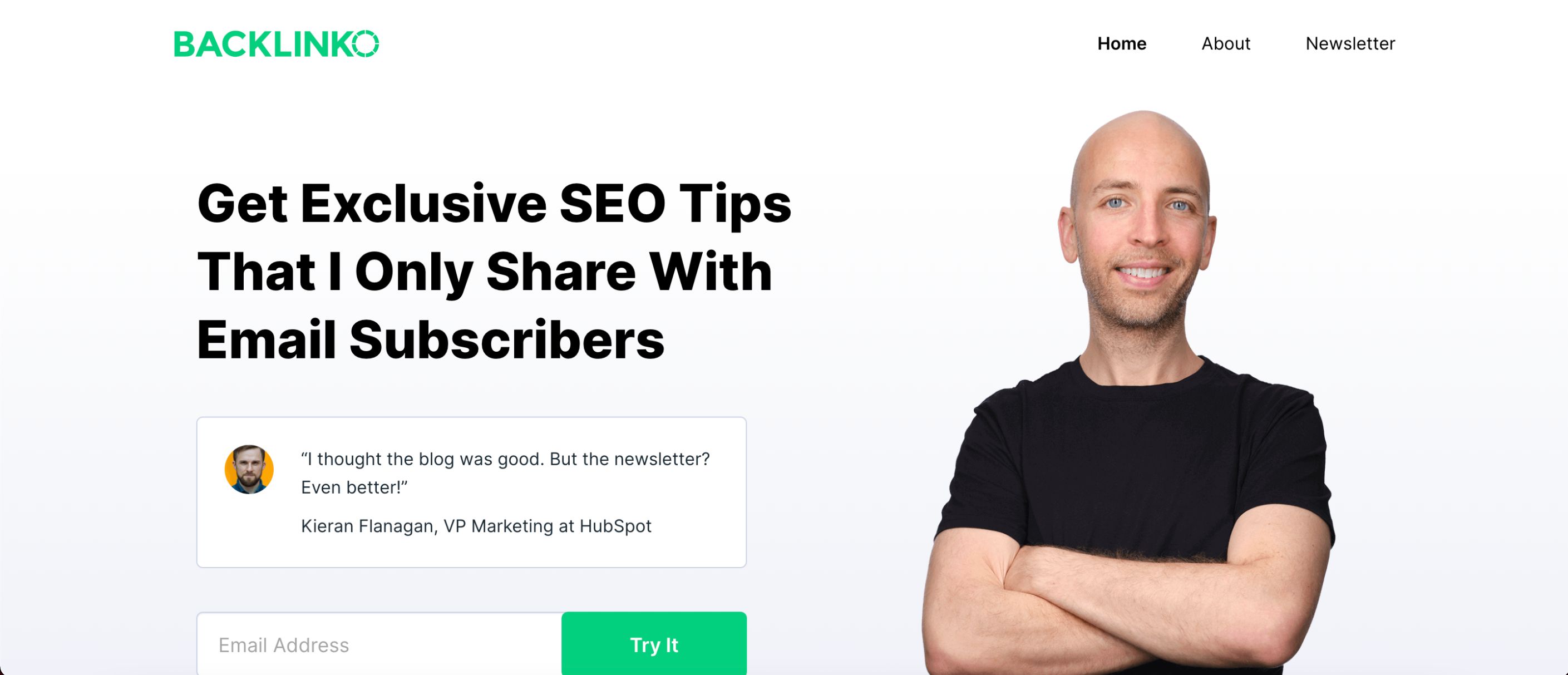 While many other resources cover search engine optimization, few go to the lengths of research and experimentation that Backlinko and Brian do.
Brian and Backlinko don't publish frequently, but when they do, you can be assured it will offer advanced tactics, techniques, and insights all backed by real-life examples. 
Who's Backlinko for? Search marketers looking for tips, tricks, and best practices to get found!
10. MarketingProfs
Next up, we have MarketingProfs. 
MarketingProfs is a B2B marketing education company devoted to helping individuals, small teams, and large organizations execute marketing campaigns that drive business results. 
They offer online events, conferences, consulting, and free supplementary resources, but the real value comes when you sign up for a PRO membership, unlocking courses, masterclasses, and a host of other features.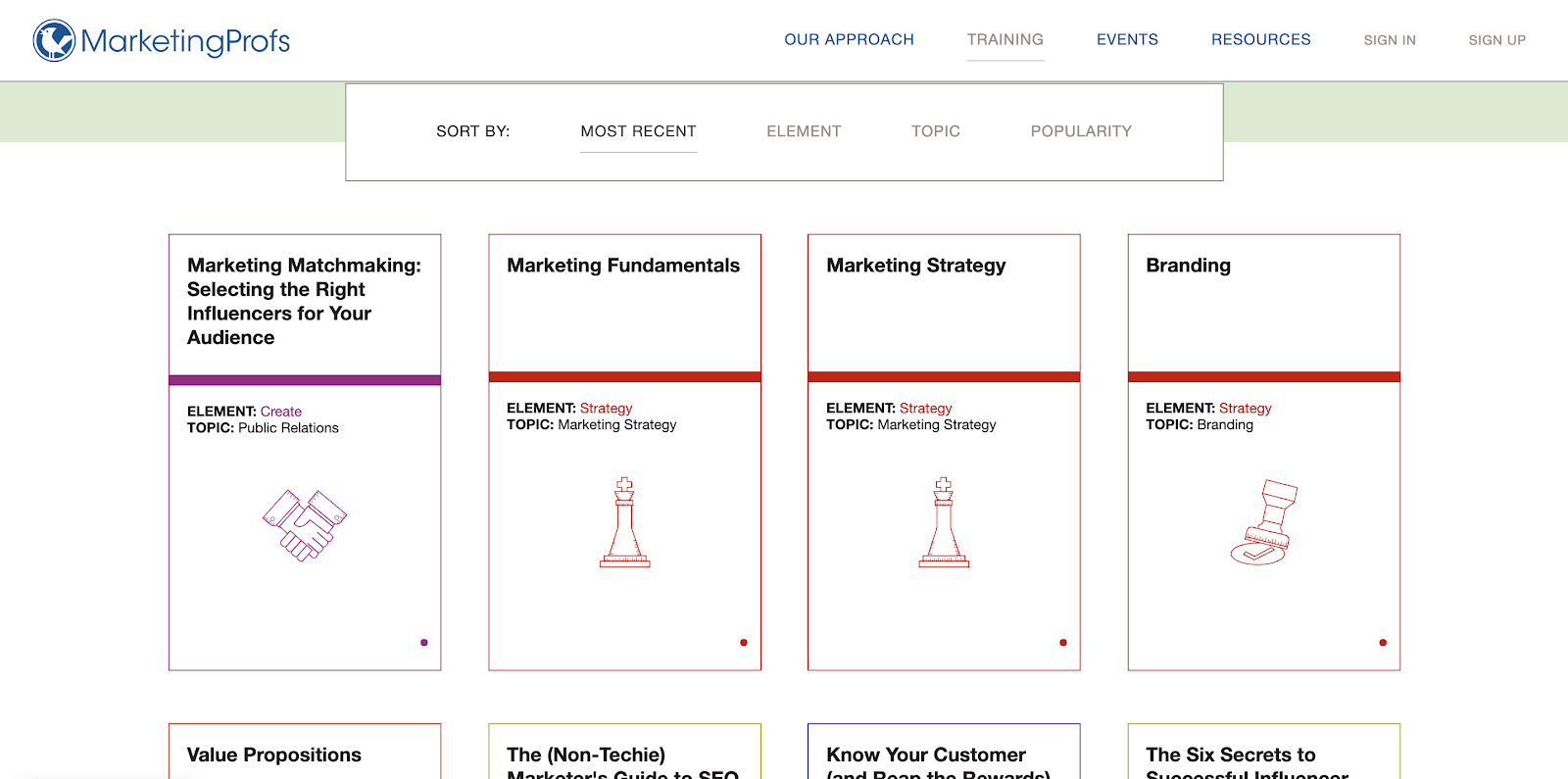 The training programs include 25 courses on essential B2B marketing subjects, such as pricing, value propositions, SEO, starting a content marketing program, and demand generation.  
There is always something new to learn and apply to your marketing strategy and execution.
Who's MarketingProfs for? Individuals and teams with a B2B focus. 
10. Google Analytics Academy
Sometimes, you need to go straight to the source. 
That being said, when it comes to Google Analytics — one of the most popular and robust analytics platforms available to digital marketers — Google Analytics Academy is the place to master your game.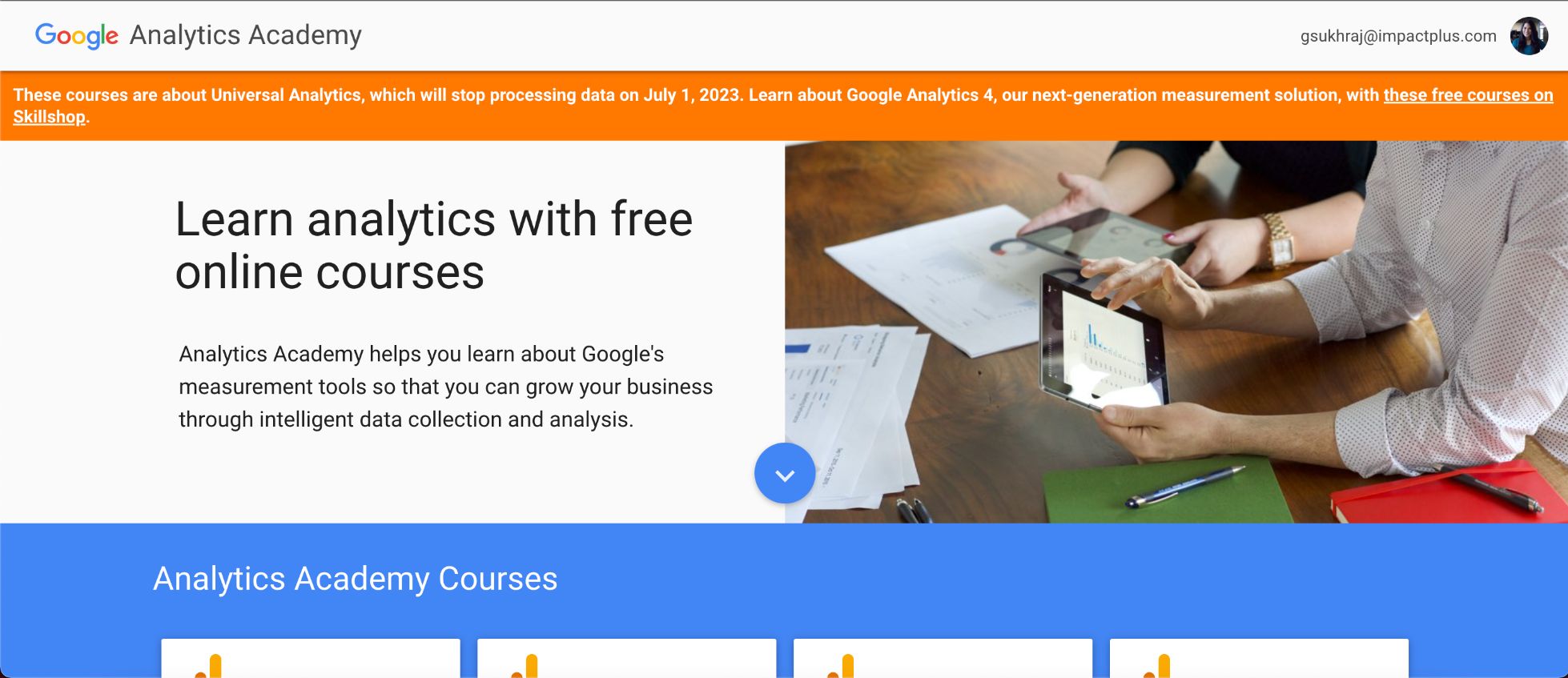 The Analytics Academy has six full courses available on the platform, as well as mini-courses on YouTube, and a blog. 
All of the resources are free and designed to help you learn "about Google's measurement tools so that you can grow your business through intelligent data collection and analysis."
Who's Google Analytics Academy for? Marketers new to the Google Analytics tool who want to learn how to best used them to track their success.
11. Canva
Almost every digital marketing initiative can benefit from having good visual aids, so having some graphic design knowledge is extremely valuable.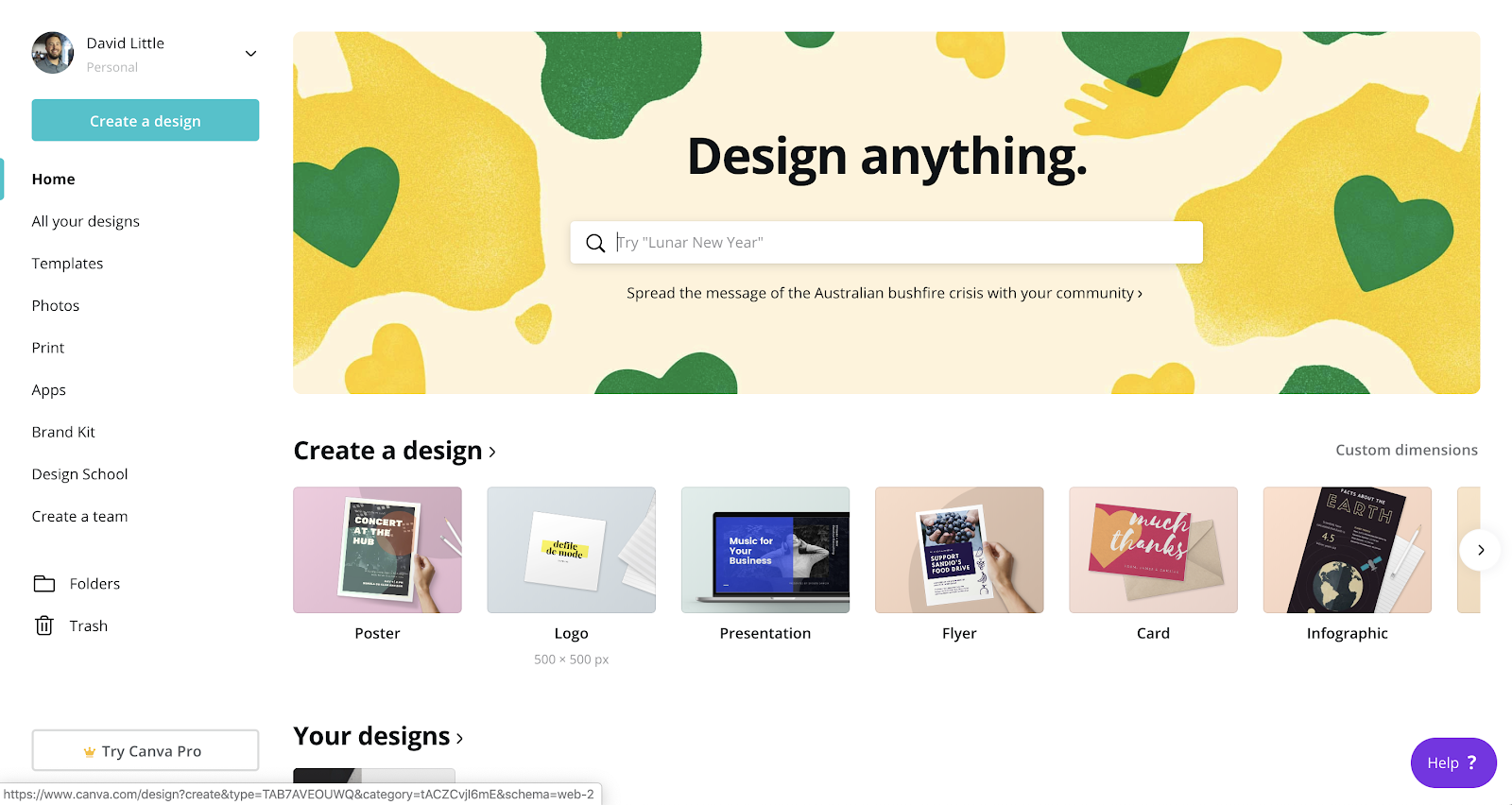 Canva's Design School (including courses, tutorials, blog articles, and events) enables you to learn enough basics of color and design theory so that you provide valuable feedback to your designers or whip up a high-quality graphic or two when one isn't available. 
Without having to learn the Adobe suite, you can then use Canva's design tool to implement what you've learned, creating from scratch or using one of their templates. 
Who's Canva for? Marketers who want to learn more about graphic design and enhancing their content with visuals. 
Grow your skills, grow your career 
These eleven digital marketing resources are all different and valuable in their own ways. They will all help you learn or hone new skills to advance your career or improve your performance, but I know it may be asking a lot to go out and sign up for them all.
So, start with one.
Where should you turn first?
I recommend starting with one of the more general options like HubSpot Academy or Digital Marketer then moving on to one of the more niche ones when you have a strong foundation.
Already mastered the basics of digital and inbound marketing? Join us in IMPACT+ to learn how They Ask, You Answer can help you get even more out of them!